Whether you're looking for trusted counsel on an existing matter or a future project, we thought we'd share with you a little bit about our Founding Attorney, Katarina Karac ("Kat"). Not every attorney is a good fit for every client and vice versa. If you're considering hiring our firm to represent you on a land use or zoning matter, read our Q&A to learn more about our Founder's background and experience to discover whether you may be a good match.
Q: What made you want to become an attorney?
A: My late grandmother, Gordana "Seka" Dragicevic, was an attorney in both Sarajevo and Belgrade (former Yugoslavia). She ran a law firm and was a trailblazer for her time. I spent many hours in my childhood in her office, observing her preparing motions on her typewriter, reviewing documents from her briefcase, and solving clients' problems on the phone. From her, I learned early on that being an attorney was challenging but also exciting and meaningful work.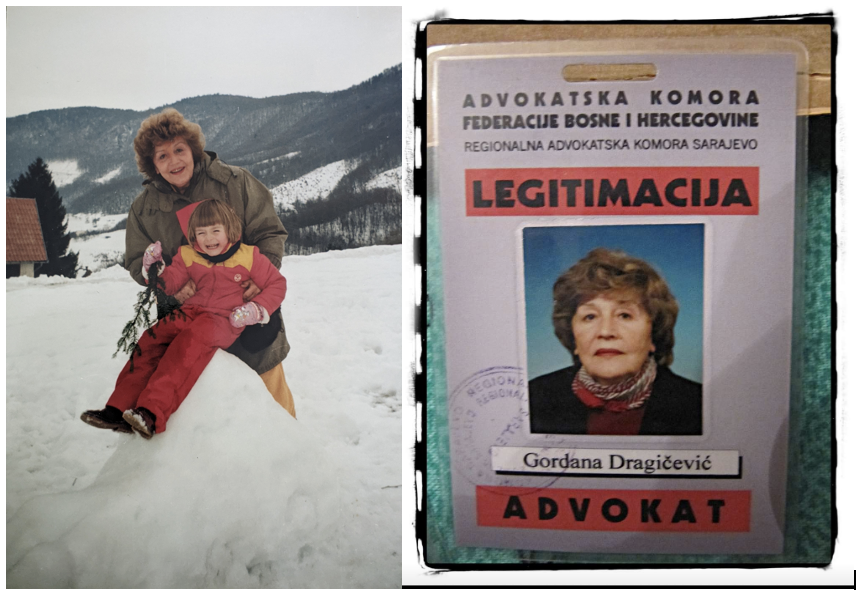 (On the left: Seka & Kat, Sarajevo, Mountain of Igman, circa. 1990; on the right: Seka's attorney registration card).
Q: Where did you go to school?
A: I graduated from Niles North High School. From there, I went off to college at the University of Illinois at Chicago. For law school, I attended The Ohio State University Moritz College of Law – Go Buckeyes!
Q: How did you become a land use and zoning attorney?
A: From the very first case I ever litigated, I knew I wanted to practice in the area of land use law. I started my legal career working for county government and then represented a municipality (City of Columbus) on approximately 500 public nuisance cases in court before joining a well-established land use and zoning law firm in Central Ohio. By the time I started Birchwood Law, there was no doubt about what kind of firm it would be.
Q: What is the biggest challenge with zoning?
A: Unfortunately, there are many challenges and things have not gotten easier over the years. Community pushback is at its worst with some neighbors taking their anti-development advocacy to new extremes. In many places, zoning laws are outdated, and as a result, minimum requirements are not in line with the surrounding area, or certain uses are not explicitly allowed. To the detriment of all, in many places, the bureaucracy of the whole process discourages investment and quality development.
Q: What's your favorite part of your job?
A: I enjoy legal research and advocacy, but my absolute favorite thing is when my clients get favorable results and walk away from our representation feeling satisfied.
Q: What do you enjoy doing in your free time?
A: I enjoy reading, going to the theatre, and spending time with my family and friends.
---
If you have questions about zoning, we'd love to hear from you! You can reach us at info@birchwood.law
Disclaimer: This content is for informational purposes only. It is not considered legal advice on any subject matter. The information provided here does not create, and receipt of it does not constitute an attorney-client relationship. You should not act upon this information without seeking advice from an attorney licensed in your own state or country."